The 2023 WOW FEST Adds Tyler Braden to Line Up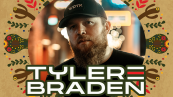 June 8, 2023
El Paso, Texas - June 8, 2023: American country music singer and songwriter Tyler Braden has been added to the 2023 Way Out West Festival line-up of artists that will perform on the Bud Light Country Concert Stage at Southwest University Park on Saturday, October 7, 2023. Braden will perform as the opening act for Brantley Gilbert along with two other openers yet to be announced.
Tyler Braden's songs, like his personality, reflect the solid foundation of his personal history. Growing up in the small rural community of Slapout, Ala., he began playing guitar and writing songs in his teens, with the support of parents who were musicians themselves. He soon demonstrated his mettle as a live performer, fronting a hard-charging band and gaining a reputation for playing four-hour cover-song sets.
He also channeled his energies into his work as a firefighter in nearby Montgomery, learning some key life lessons that he says has been able to apply in his musical life. "Being a firefighter taught me emotional stability," Braden states, adding, "that line of work is mentally tough, and the fire service helped to make me the level-headed man that I am."
The recently released six track album, Neon Grave, produced by Randy Montana and released via Warner Music Nashville, marks a creative milestone for Braden. The charismatic singer-songwriter has spent much of his young life cultivating his distinctive musical vision. He's also built a massive fan base through a series of more than a dozen successful digital releases, racking up an incredible 200 million streams. Meanwhile, he's made his mark as a powerhouse live performer, with an earthy energy to match his emotionally insightful, melodically infectious songs.
Braden's ability to imbue his self-penned tunes with gritty urgency and emotional intimacy is reflected in the swaggering, irony-laden title track, and on the stirring "Try Losing One." The latter number appears on Neon Grave in two distinct versions, one with Braden's heartfelt solo vocal and the other as an emotion-charged duet with Sydney Sierota of Echosmith. The original version of "Try Losing One" hit No. 1 on Sirius XM The Highway's Hot 30 Countdown, while the duet is accompanied by a black-and-white video that underlines the song's stark emotional landscape.
"Ever since I first learned how to strum a couple chords on a guitar, rock music has been a huge influence on my style," says Braden. "I think that Neon Grave really kicks it up a notch. It has that underlying thread of country storytelling, but it also channels the same kind of energy that fans feel during my live shows. I'm excited for everyone to hear and experience the direction that we're headed in."
Tickets to Way Out West Country Music Festival are ON SALE NOW at the Southwest University Park box office, online at www.epwayoutwest.com or www.southwestuniversitypark.com, or by calling 915-533-BASE (2273). Military savings are available through GovX.com.
WOW Fest also features the Quest for the Best Margarita contest, a Chili Challenge, a one-of-a-kind outdoor dance floor, unique retail and craft vendors, plenty of border food favorites, along with ice cold drinks! Kick back with a frosty beverage and sing along or grab your partner and two-step under the stars!
Live Country music, delicious food, and a fabulous climate… just a few reasons to celebrate WAY OUT WEST – where Texas begins and the Honky Tonk Fiesta never ends!
Follow Tyler Braden here:
Official Website: www.tylerbraden.com
Facebook: @tylerbradenmusic
Instagram: @tylerbradenmusic
YouTube: @TylerBraden
OTHER STORIES