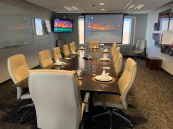 Capacity: 18 (Approximate)
AV Capabilities: (Extra)
Need a private location to hold your meeting? Want to get away from the office? Hold your board meeting or office meeting in our state-of-the-art conference room with a drop down screen, computer, private conference line, wireless access and large flat screen television, we offer the perfect option to get your business done. Catering options are available.