BRANTLEY GILBERT TO HEADLINE 2023 WOW FEST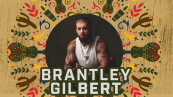 May 11, 2023
El Paso, Texas - May 11, 2023: American country rock singer/songwriter and record producer, Brantley Gilbert, will headline the Seventh Annual Way Out West Country Music Festival (WOW Fest) to be held Saturday, October 7th at Southwest University Park. The annual country music festival will also feature additional top country music acts from across the U.S. that will be announced throughout the summer.
With back-to-back platinum albums and grassroots following millions strong, Gilbert's music has been shared, covered, and adopted as the soundtrack to Saturday night into Sunday morning by audiences around the world. The Georgia native, who started as the defiant life-of-the-party, can still go 'til sunrise, but he's also emerged as something far greater: the leader of a massive tribe of hard-working, fun-loving believers for whom electric guitar-shredding, rapping, and twang can go hand-in-hand. They call themselves the BG Nation, and when the BG Nation watches Gilbert on a stage, they don't just see a star - they see themselves.
Seven No. 1 hits punctuate his career: "Country Must be Country Wide," "You Don't Know Her Like I Do," CMA Awards Song of the Year nominee "Dirt Road Anthem," "My Kinda Party," RIAA 5x platinum-certified "Bottoms Up," "One Hell of an Amen," and the collaboration with Lindsay Ell "What Happens In A Small Town." Gilbert's landmark record Just As I Am clinched the 2014 American Music Award for Favorite Country Album.
In June 2021, Gilbert released the single "The Worst Country Song of All Time," featuring Hardy and Toby Keith, and followed it up with the promotional single "Gone But Not Forgotten" later that year. In March 2022, Gilbert and Jason Aldean released another promotional single "Rolex® on a Redneck".
Gilbert released his sixth studio album So Help Me God on November 10, 2022 and announced "Heaven by Then," featuring Blake Shelton and Vince Gill, as the album's second official single.
Earning praise from the New York Times, NPR, American Songwriter, and more, Gilbert has mined a rich vein of conflict between the party and the pew on all his albums. Instead of toiling in limbo, unable to enjoy good times for fear of Judgment Day, Gilbert fully lives - rowdy friend, man of faith, devoted husband, smitten new father - just as he is. 
Tickets to Way Out West Country Music Festival are ON SALE NOW at the Southwest University Park box office, online at www.epwayoutwest.com or HERE, or by calling 915-533-BASE (2273). Military savings are available through GovX.com
WOW Fest also features the Quest for the Best Margarita contest, a Chili Challenge, a one-of-a-kind outdoor dance floor, unique retail and craft vendors, plenty of border food favorites, along with ice cold drinks! Kick back with a frosty beverage and sing along or grab your partner and two-step under the stars!
Live Country music, delicious food, and a fabulous climate… just a few reasons to celebrate WAY OUT WEST – where Texas begins and the Honky Tonk Fiesta never ends!
Follow Brantley Gilbert here:
Official Website: www.brantleygilbert.com
Facebook: @brantleygilbertmusic
Instagram: @brantleygilbert
YouTube: @BrantleyGilbertMusic
OTHER STORIES