The 2023 Way Out West Festival Adds Tyler Rich to Festival Line Up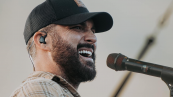 August 1, 2023
El Paso, Texas – August 1, 2023: American country music singer Tyler Rich has been added to the 2023 Way Out West Festival line-up of artists that will perform on the Bud Light Country Concert Stage at Southwest University Park on Saturday, October 7, 2023. Rich will perform as one of the opening acts for Brantley Gilbert along with Tyler Braden and one other act yet to be announced.
Northern California-raised, Nashville-rooted Tyler Rich found his love of music gathered around a Christmas tree alongside family singing holiday classics and Creedence Clearwater Revival. Fast forward to graduating college with a degree in Economics, Tyler moved to LA to pursue a different game of numbers – music – exploring various genres with songwriting and bands before taking the leap as a solo artist. Since, Tyler has amassed nearly half a billion global streams to date and notched three No. 1 hits on SiriusXM's The Highway with his debut album Two Thousand Miles (The Valory Music Co.), featuring GOLD-certified "The Difference" plus subsequent releases "Better Than You're Used To," "A Little Bit of You" and "Trucks Don't Lie."
In 2022, Tyler joined forces with one of Canada's most successful bilingual singer-songwriter, Marie-Mai for a duet on "Thinkin' We're In Love," which serviced as the name of his headline tour. With his newly released I Know You Do EP, Tyler gives fans the best of both worlds fusing the spirit of youth with an easy-going buzz. Produced by The Cadillac Three's Jaren Johnston, the three-track collection puts the many layers of the heartfelt singer/songwriter on full display.
Tyler's music embodies the feelings all people have in common – the need for acceptance, devotion, and a place to call their own – and that empathetic spirit extends to animals too. With Rich Rescues, Tyler visits local shelters while out on the road to raise awareness for pet adoption.
Tickets to Way Out West Country Music Festival are ON SALE NOW at the Southwest University Park box office, online at www.epwayoutwest.com or www.southwestuniversitypark.com, or by calling 915-533-BASE (2273). Military savings are available through GovX.com.
WOW Fest also features the Quest for the Best Margarita contest, a Chili Challenge, a one-of-a-kind outdoor dance floor, unique retail and craft vendors, plenty of border food favorites, along with ice cold drinks! Kick back with a frosty beverage and sing along or grab your partner and two-step under the stars!
Live Country music, delicious food, and a fabulous climate… just a few reasons to celebrate WAY OUT WEST – where Texas begins and the Honky Tonk Fiesta never ends!
Follow Tyler Rich here:
Official Website: www.tylerrich.com
Facebook: @tylerrichmusic
Instagram: @tylerrich
YouTube: @TylerRichMusic
OTHER STORIES