Southwest University Park to Host MMA, LIVE on UFC Fight Pass, presented by Speaking Rock Entertainment, August 4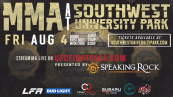 April 25, 2023
EL PASO, TEXAS – April 25, 2023 – Legacy Fighting Alliance, Ring Side Ticket, and Leg up Entertainment are bringing mixed martial arts (MMA) to Southwest University Park Friday, August 4. The live event will be streamed worldwide on UFC Fight Pass, presented by Speaking Rock Entertainment, with gates open at 6 p.m. Fights start at 7 p.m.
Tickets go on sale to the general public Friday, May 5 at 10 a.m. at the Southwest University Park Durango Box Office, online at SouthwestUniversityPark.com, and by phone at 915-533-BASE.
Season Seat Members will be given the first opportunity to purchase tickets starting at 10 a.m. Wednesday, May 3. Season Seat Members will be instructed via email how they can purchase their tickets.
The event will showcase fighters from around the region as well as yet-to-be named title card fight. The main cards and undercards will be announced closer to the August 4 fight date. This is the first mixed martial arts fight at Southwest University Park and the second combat sporting event since El Pasoan Jennifer Haan defended her World Featherweight Title on April 29, 2016.
Launched in 2013, UFC Fight Pass is a live and on-demand platform that features MMA, boxing, and other combat sporting events. It also includes the world's largest fight library with more than 17,000 fights, every UFC fight, and more than 1,000 hours of live combat sports.
###
About the Leg Up Entertainment
Leg Up Entertainment, LLC seeks to bring first class and world-renown entertainment to enhance the quality of life in the Borderplex region and promote economic development through the creation and management of events in a first-class venue. Leg Up Entertainment helps maximize the popularity and use of Southwest University Park all year long by creating, promoting, and managing for-profit events as well as events and gatherings for civic and charitable organizations.
OTHER STORIES