Leg Up Entertainment & Speaking Rock Announce UFC Legend Chuck Liddell Meet & Greet & Fighter Weigh-Ins Ahead of First MMA Fight at Southwest University Park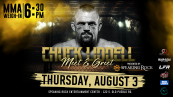 July 12, 2023
EL PASO, TEXAS – July 12, 2023 – Leg Up Entertainment and Speaking Rock Entertainment announced the official weigh-in location for the first mixed martial arts (MMA) event that will be held at Southwest University Park to be held on Friday, August 4.
The weigh-in location, featuring a meet and greet with UFC legend Chuck "The Iceman" Liddell, will take place Thursday, August 3 at 6:30 p.m. at Speaking Rock and is free and open to the public ages 21 and over.
Hosted by Legacy Fighting Alliance (LFA), Ring Side Ticket, and Leg Up Entertainment, the MMA event will showcase fighters from around the region as well as a yet-to-be determined title card fight competing in the Bud Light octagon. The main cards and undercards will be announced in the coming days.
The MMA fight will be televised LIVE on UFC Fight Pass, presented by Speaking Rock Entertainment.
Tickets for the MMA fight, part of the LFA 164 Texas Tour, are on sale now at the Southwest University Park Durango Box Office, online at SouthwestUniversityPark.com, and by phone at 915-533-BASE (2273). Doors to the MMA fight open at 6 p.m. and the fight is presented by Speaking Rock Entertainment, Bud Light, Cesar Ornelas Injury Law, Subaru of El Paso, and Barrio Eats and Drinks.
Liddell made his UFC debut in 1998. He is the former UFC World Light Heavyweight, UFC Hall of Fame Inductee 2009, the IFC Heavyweight Champion and won numerous titles such as the USMTA North American Heavyweight Title, and IFK National Heavyweight Title. Liddell will also be attending the MMA fight on August 4.
This is the first mixed martial arts fight at Southwest University Park and the second combat sporting event since El Pasoan Jennifer Haan defended her World Featherweight Title on April 29, 2016.
Launched in 2013, UFC Fight Pass is a live and on-demand platform that features MMA, boxing, and other combat sporting events. It also includes the world's largest fight library with more than 17,000 fights, every UFC fight, and more than 1,000 hours of live combat sports.

LFA 164 TEXAS TOUR MMA WEIGH-IN INFORMATION
Location: Speaking Rock Entertainment Center
Date: Thursday, August 3
Time: 6:30 p.m.
Meet and Greet: UFC legend Chuck "The Iceman" Liddell (following weigh-ins)
Tickets: Free and open to the public ages 21 and over
MMA FIGHT AT SOUTHWEST UNIVERSITY PARK INFORMATION
Location: Southwest University Park
Date: Friday, August 4
Gates: 6 p.m.
Undercards: 7 p.m.
Main Event: 9 p.m.
Special Apperance: UFC legend Chuck "The Iceman" Liddell

OTHER STORIES