LFA ANNOUNCES WOMEN'S FLYWEIGHT CHAMPIONSHIP FOR MMA TITLE FIGHT, PRESENTED BY SPEAKING ROCK ENTERTAIMENT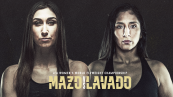 July 13, 2023
EL PASO, TEXAS – July 13, 2023 – Legacy Fighting Alliance (LFA), Ring Side Ticket, and Leg up Entertainment announced Thursday the title fight for the first MMA event to be held at Southwest University Park on Friday, August 4, presented by Speaking Rock Entertainment.
The main event, part of the LFA 164 Texas Tour, will feature a women's flyweight title fight between former LFA champion Sabina "Colombian Queen" Mazo and Dana White's Contender Series alum Sandra "Peruvian Zombie" Lavado in the Bud Light octagon.
Doors open at 6 p.m. and the entire main card will be available worldwide on UFC FIGHT PASS® at 11 p.m. EDT/8 p.m. PDT, presented by Speaking Rock.
Tickets for the MMA fight on August 4 are on sale now at the Southwest University Park Durango Box Office, online at SouthwestUniversityPark.com, and by phone at 915-533-BASE (2273). The fight is presented by Speaking Rock Entertainment, Bud Light, Cesar Ornelas Injury Law, Subaru of El Paso, and Barrio Eats and Drinks.
The winner will become the fifth 125-pound women's champion in LFA history. It will also be the 24th time that the LFA has visited "The Lone Star State."
"We are excited to bring the Women's Flyweight Championship to El Paso at LFA 164," stated LFA CEO Ed Soares. "Sabina Mazo is one of the most successful women to ever compete in the LFA. Five years ago, she became the youngest champion in LFA history and now she is looking to capture that title for a second time. She will face Sandra Lavado, who is a veteran of Dana White's Contender Series and just became a regional champion. This will set up an epic LFA title fight between Colombia and Peru's top female prospects."
Mazo (9-4) is looking to re-write the LFA history books, once again, when she returns to the promotion that she grew up in. Mazo became the first Colombian fighter in LFA history when she signed with the promotion at age 19. She quickly gained worldwide attention three weeks after her 20th birthday with one of the most watched Head Kick knockouts in Women's MMA history. Five months later, the "Colombian Queen" would strike again by recording a second consecutive viral Head Kick knockout. Mazo then became the youngest champion in LFA history by defeating Shannon Sinn at LFA 37, just one month after her 21st birthday.
Mazo defended her title once before signing with the UFC, where she fought for three years. Now after a year of changing gyms and improving her all-around game, she will look to become the first person to win an LFA title twice, while also tying the record for most women's wins in LFA history (5).
Lavado (12-4) is the most decorated and promising women's prospect in Peru for good reason. Her signature all-action style of fighting has earned her the nickname "Peruvian Zombie" in her home country and she lives up to that moniker well.
Lavado is a two-time National champion in Boxing, she is a Golden Gloves champion in Boxing, and last month she became a regional MMA champion in Peru. After competing on Dana White's Contender Series last summer, Lavado has also been working alongside some of the most talented Latin American women in the sport at Lobo Gym in Guadalajara, Mexico. This is the home to current UFC women's flyweight champion Alexa Grasso, recent UFC women's bantamweight title challenger Irene Aldana, and UFC star/former LFA women's strawweight champion Lupita Godinez. The impact training among this talent was immediate and now she is set to fight for her first world title at LFA 164.
Hosted by Legacy Fighting Alliance, Ring Side Ticket, and Leg Up Entertainment, the MMA event will showcase fighters from around the region as well as yet-to-be named title card fight competing in the Bud Light octagon. The main cards and undercards will be announced within the coming days.
The official weigh-in will take place at Speaking Rock Entertainment Center on Thursday, August 3 beginning at 6:30 p.m. The weigh-in includes a special appearance and meet and greet with UFC legend Chuck "The Iceman" Liddell who will also make an appearance during the MMA fight Friday. The weigh-in is for ages 21 and over and is free.
 In 2017, RFA and Legacy FC merged to form LFA, the premier developmental organization in Mixed Martial Arts. The combined forces of LFA launched the careers of over 280 athletes that have reached the pinnacle of MMA by competing in the UFC. In 2018, the promotion joined the Imperial Family Companies group (formerly London Trust Media). In 2019, the promotion announced a broadcast partnership with UFC FIGHT PASS®. In 2021, the LFA expanded internationally by hosting multiple events in Brazil.
LFA 164 FLYWEIGHT TITLE FIGHT:
Location: Southwest University Park
Doors: 6 p.m.
Undercard: 7 p.m.
Title Fight: 9 p.m.
Special appearance by UFC legend Chuck "The Iceman" Liddell
Tickets: southwestuniversitypark.com
CURRENTLY ANNOUNCED FIGHT CARD:
Main Event | Women's Flyweight Title Bout (125 lb)
Sabina Mazo (9-4) vs. Sandra Lavado (12-4)
WEIGH-IN INFORMATION:
Location: Speaking Rock Entertainment Center
Time: 6:30 p.m.
Special appearance and meet and greet by UFC legend Chuck "The Iceman" Liddell
Tickets: Free and open to the public ages 21 and over
For bout updates and information visit LFA.com and @LFAfighting on the official LFA Youtube, Facebook, Instagram, and Twitter pages.
###
About the LEG UP ENTERTAINMENT
Leg Up Entertainment, LLC seeks to bring first class and world-renown entertainment to enhance the quality of life in the Borderplex region and promote economic development through the creation and management of events in a first-class venue at Southwest University Park. Leg Up Entertainment helps maximize the popularity and use of Southwest University Park all year long by creating, promoting, and managing for-profit events as well as events and gatherings for civic and charitable organizations.
About LFA
LFA is a professional Mixed Martial Arts promotion that gives rising stars and top contenders the opportunity to prove their talent to fans and leaders in the industry. LFA was formed by the powerhouse merger between RFA and Legacy FC. LFA presents live Mixed Martial Arts events on a monthly basis around the United States including Las Vegas, Los Angeles, Denver, Dallas, and Houston. Based in Las Vegas, NV, LFA is one of the most active and respected MMA organizations in the fastest growing sport in the world. (The Octagon, Ultimate Fighting Championship®, UFC®, and the eight-sided competition mat and cage design are registered trademarks owned exclusively by Zuffa, LLC. All rights reserved).
About UFC FIGHT PASS®
UFC FIGHT PASS® is the world's leading digital subscription service for combat sports. Since launching in 2013, UFC FIGHT PASS is now available in more than 200 countries and territories. FIGHT PASS provides its members with unlimited access to live UFC FIGHT PASS Prelims; live mixed martial arts and combat sports from around the world; original series and historical programming; special features; behind-the-scenes content; in-depth interviews; and up-to-the minute reports on the world of combat sports. UFC FIGHT PASS subscribers also have 24/7 access to the world's largest fight library, featuring more than 20,000 bouts from dozens of combats sports organizations, as well as every fight in UFC history. Fight fans can access UFC FIGHT PASS on personal computers, iOS and Android mobile devices, Apple TV, Xbox One, Amazon Fire TV, Chromecast, Roku, Samsung Smart TVs, LG Smart TVs, and Sony TVs with Android TV. For more information, please visit ufcfightpass.com.
About IMPERIAL FAMILY COMPANIES
The Imperial Family Companies maintains a diversified portfolio with one common theme: bringing power to the people. The IFC is proud to partner with the LFA management team to showcase the greatest talents of tomorrow. Learn more about the IFC at ImperialFamily.com.
OTHER STORIES