WAY OUT WEST COUNTRY FEST INFORMATION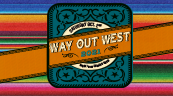 October 2, 2021
BEFORE YOU GET HERE
OFFICIAL HOTEL: Hotel Paso Del Norte
PARKING: Parking is located at the Union Plaza Transit Terminal, Convention Center, Mills Parking Garage, or metered parking Downtown.

10% OFF: All active duty military, veterans, and first responders may receive up to 10% off each ticket via GOVX.com. Restrictions may apply. CLICK HERE!
REMINDERS:
Southwest University Park is a clear bag/no bag venue.
Southwest University Park is a cashless facility. Major credit/debit cards, Apple Pay, and Google Pay are accepted forms of payment.
Upon entry, please have your ticket handy in order to expedite the entry process.
DAY OF EVENT BOX OFFICE: Durango & Santa Fe Box Offices will be open from 10 a.m.-9 p.m. on day of event.
RINE OR SHINE: Rain or shine, Way Out West Fest will go on!
TFCU VIP AND FLOOR ENTRANCES: The TFCU VIP entrance into Southwest University Park will be located at the Durango Gate at the corner of Durango St. & Franklin Ave. Once inside Southwest University Park, TFCU VIP and Floor ticket entrances will be located at Sections 105/106 & 119/120. ADA access to both will be at the 322 Gate on the Santa Fe Plaza.
FLOOR TICKETS & WESTSTAR CLUB TICKETS: Once inside Southwest University Park, patrons with Floor tickets and WestStar Club tickets will need to be wristbanded prior to accessing the floor area. Patrons with Floor tickets can pick up wristbands at the following locations: Santa Fe Plaza, Ticket Sales table at Section 112, top of aisles at Sections 119/120 & 105/106. For WestStar Club patrons, wristbands to access the floor will be located at Section 112 only.
WAY OUT WEST COUNTRY MUSIC PERFORMERS
HEADLINER: Cody Johnson
PERFORMING: Randall King, The Powell Brothers, Graycie York
FESTIVAL
GATES: 5 P.M.
DRINK SPECIALS:
$2 Bud Light
$2 Karbach Ranch Water Hard Seltzer
$2 Margaritas
Specials end at 7 p.m.
CHILI CHALLENGE: $5 for 5 tastings
5-7 p.m. on Concourse between Sections 102-106
Tickets are available at Section 102 upon entry.
Chili Challenge includes five (5) chili tastings.
Chili Challenge includes five (5) voting tickets.
No limit to the number of tickets purchased.
CHILI AND TOPPINGS: Chili and toppings will be sold at Monchis & Hua Hua.
HORNITOS QUEST FOR THE BEST MARGARITA: 7-9 p.m. on the Santa Fe Plaza
ARTIST MERCHANDISE: Located at Sections 113-115
VENDORS: Sections 101-117
Dick Poe
Raising Canes
Allstate
Alex Boots
Reduce the Risk
Wild Cattle Co.
Pulpo Beard Oils
Raising Cane's Photo Booth
Western Tech (Floor)
MECHANICAL BULLRIDING: Located at the 322 gate on the Santa Fe Plaza. Bullriding ends at 9 p.m. Must sign a waiver to participate. Patron assumes all risks.
WOW RAISING CANE'S PHOTO BOOTH: Located at Section 101. Patrons are asked to use the hashtag: #EPWOWFest
CAVENDERS DANCE FLOOR: Must have Floor tickets to access the Cavendar's Dance Floor.
TFCU VIP: To expedite entry, please have credential prepared when entering Southwest University Park, the floor, and the TFCU VIP tent.
REMINDER: Southwest University Park is a CLEAR BAG/NO BAG venue. CLICK HERE for information!
WAYFINDER: