BALLPARK BUZZ | October 27, 2020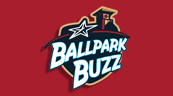 October 27, 2020

El Paso Locomotive FC Caps Stellar Second USL Championship Campaign
El Paso Locomotive FC's second run through the USL Championship came to a close last Saturday after a heartbreaking loss in a penalty shootout against Phoenix Rising FC. Through its second season, Locomotive turned heads with a second consecutive run to the Western Conference Final – a feat that has only been accomplished by two other teams since 2015. In the first two years of Locomotive's existence, Head Coach Mark Lowry has built a culture in the locker room that aims for success with a level of grit and tenacity that has resulted in incredible wins.
After truly successful first season, Locomotive FC continued to build upon its world-class roster, to replicate the same success. Goalkeeper Logan Ketterer anchored the defense in goal, showing he is the best in the West by leading the conference in clean sheets. Meanwhile, Midfielder Dylan Mares added creativity and versatility, quickly making an impact with goals and assists in a shortened season. The team also built on its relationship across the border with FC Juarez by adding leading Forward Leandro Carrijo and defender Eder Borelli, both of whom aided Locomotive to a second USL Championship Western Conference Final. Only one team in the league has made it to a Conference Final three times in its first three years of play, but Coach Lowry and his winning Locomotive squad have built the culture and mentality to become the second team on record in 2021.

Locomotive Bows Out of 2020 USL Championship Playoffs
On Saturday, El Paso Locomotive FC bowed out of the 2020 USL Championship Playoffs after an incredible fight through 120 minutes and a resulting penalty shootout against Phoenix Rising FC. Midfielder Byram Rebellón scored the lone Locomotive goal through regulation time while Forward Leandro Carrijo and Midfielder Richie Ryan converted their penalties in the tie-breaking shootout.

Newly Engaged Memo Diaz has Night to Remember
Following the momentous win over New Mexico United in the Western Conference Semifinal to book a second consecutive ticket to the Western Conference Final, Memo Diaz took a moment to surprise his girlfriend with a ring. Memo's night to remember is highlighted by Bret Bloomquist of El Paso Times as he features the El Paso native's career with Locomotive and what led to asking for his girlfriend's hand in marriage. (Bret Bloomquist, El Paso Times, 10/22/2020)
Chihuahuas Chatter Features Chihuahuas in the MLB Playoffs
Eight different MLB teams had at least one former Chihuahuas player on their 2020 playoff roster. The latest edition of Chihuahuas Chatter showed highlights and graphics for the 18 different Chihuahuas in the 2020 MLB postseason.
Renfroe's walk-off reax a pure October sound
[Former Chihuahua] Hunter Renfroe was mic'd up for the final moments of Game 4 of the World Series, from Phillips' single off Kenley Jansen to Randy Arozarena's wild ride around the bases to the Rays spilling out of the dugout and onto the field to celebrate the 8-7 win over the Dodgers. (David Adler, MLB.com, 10/25/20) Renfroe blasted a solo homer in the bottom of the fifth to bring the Rays within one run of the Dodgers (3-2).
World Series Game 6 Tonight Features Two Chihuahuas
Game 6 of the World Series featuring the Los Angeles Dodgers vs. Tampa Bay Rays at Globe Life Field in Arlington, Texas will air live on Fox with first pitch slated for 6:08 p.m. MST. The game features former Chihuahuas All-Stars and members of the 2016 Pacific Coast League Championship team, Manny Margot and Hunter Renfroe. The Dodgers lead the series 3-2.
Nitro Circus Update and Ticket Information
Due to the ongoing COVID-19 pandemic, the Nitro Circus show which was scheduled to take place at Southwest University Park on October 30, 2020 has been postponed and moved to a future date in 2021 which will be announced soon. Ticketed guests may retain any existing tickets as they will be valid for the new date.
CLICK HERE for Ballpark Buzz Archive
---
BALLPARK CONTACT INFORMATION
| | | | | |
| --- | --- | --- | --- | --- |
| | | | | |
| ANGELA OLIVAS | TIM HAGERTY | SARAH NOLLNER | DERICK FOX | GINA ROE-DAVIS |
| El Paso Chihuahuas | El Paso Chihuahuas | El Paso Locomotive FC | El Paso Locomotive FC | Leg Up Entertainment |
| Sr. Director, Marketing & Communications | Sr. Manager, Broadcast & Media Relations | Director, Marketing & Communications | Manager, Communications | Director, Special Events |
| Email: aolivas@ | Email: thagerty@ | Email: snollner@ | Email: dfox@ | Email: groe-davis@ |
---