NITRO CIRCUS UPADTE & TICKET INFORMATION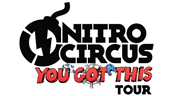 October 23, 2020
Due to the ongoing COVID-19 pandemic, we have had to reschedule the Nitro Circus show which was scheduled to take place at Southwest University Park on October 30, 2020 to a future date in 2021 which will be announced soon.

The guys at Nitro Circus remain incredibly excited to come back next year and put on an awesome show for you. The staff at Southwest University Park is currently working hard with Nitro Circus to confirm a new date in 2021 and we will be in touch again as soon as this new date is confirmed.

Please make sure that you retain your existing tickets as they will be valid for the new date. There is no action required on your end - just hold on to your tickets!

The safety, well-being, and comfort of all Nitro Circus fans remain both ours and Nitro's top priority and, while we are disappointed that we need to postpone this show, the entire Nitro Circus cast and crew can't wait to get back on the road and perform their action-packed show for you in 2021.

Nitro Circus has also asked us to pass along a big thank you from all the athletes and crew at Nitro Circus for your incredible support and understanding through these challenging times. Please be sure to stay safe and healthy.
Please contact info@epchihuahuas.com or call or text (915) 533-BASE for information.