Ballpark Buzz | March 16, 2021 | Issue 25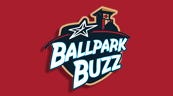 March 16, 2021

Southwest University Park, home of the El Paso Chihuahuas and El Paso Locomotive FC, will host its 2021 job fair, virtually, via prescheduled individual in person appointments and web-based interviews.
The 2021 USL Championship season draws ever closer as teams begin to kick off their preseason games in preparation! Locomotive has eight games on its preseason slate, featuring scrimmages against two MLS clubs, USL Mountain Division rivals, USL League One teams, and a pair of friendlies against its sister club across the border, FC Juarez.
Hailing from Madrid, Spain, Locomotive Midfielder Jose Aguinaga made his path-to-pro playing in the youth academies of Madrid before jumping across the pond to earn a degree while chasing a dream in professional soccer.
Franchy Cordero, who played for El Paso for parts of the 2017-2019 seasons, was traded from the Kansas City Royals to the Boston Red Sox on February 10. Cordero grew up a Red Sox fan in the Dominican Republic. (Ian Browne, RedSox.com, 3/13/2021)
While the Chihuahuas have yet to announce an on sale date for single game tickets, they are now offering registration for priority purchase when that day comes.
Local jurisdictions have decided to keep their coronavirus safety protocols, drawing ire from state politicians (Alexandra Villarreal, theguardian.com, 3/14/2021)
---
BALLPARK CONTACT INFORMATION
| | | | | |
| --- | --- | --- | --- | --- |
| | | | | |
| ANGELA OLIVAS | TIM HAGERTY | SARAH NOLLNER | DERICK FOX | GINA ROE-DAVIS |
| El Paso Chihuahuas | El Paso Chihuahuas | El Paso Locomotive FC | El Paso Locomotive FC | Leg Up Entertainment |
| Sr. Director, Marketing & Communications | Sr. Manager, Broadcast & Media Relations | Director, Marketing & Communications | Manager, Communications | Director, Special Events |
| Email: aolivas@ | Email: thagerty@ | Email: snollner@ | Email: dfox@ | Email: groe-davis@ |
---