Southwest University Park to Hold Virtual Job Fair for 2021 Gameday and Event Staff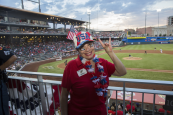 March 1, 2021
SEE BELOW TO APPLY
EL PASO – Southwest University Park, home of the El Paso Chihuahuas and El Paso Locomotive FC, will host its 2021 job fair, virtually, via prescheduled individual in person appointments and web-based interviews.
Southwest University Park hiring managers are looking for qualified, hardworking candidates with great guest service skills who can work baseball and soccer home games as well as other sporting and non-sporting events in a variety of different positions.
Any interested candidates should choose an area of interest below to be directed to the respective manager to apply. Qualified applicants will then be able to select a time and date for a socially distant in-person or web-based interview, with the respective hiring manager.
Candidates must be 17 years of age to apply, must be able to pass a background check, and must be able to work all home games and additional events as needed.
The El Paso Chihuahuas, El Paso Locomotive FC, and Leg Up Entertainment are proud to be equal opportunity employers.
Professional Sports Catering, LLC, the official food and beverage provider of Southwest University Park, is not hiring at this time.
---
Click on one (1) link below to apply.
2021 Seasonal Retail Clerk/Cashier
50/50 In Game Raffle Sales Representative
Assistant Groundskeeper
Bat Boy/Clubhouse Assistant
Personal de Limpieza
Seasonal Cleaning Staff
Seasonal Fun Squad and Community Engagement Assistant
Seasonal Game Day Grounds Crew
Seasonal Guest Services
Seasonal Parking Lot Attendant
Seasonal Patron Screening & Security Associate