Way Out West Fest Adds The Wild Feathers To Festival Line Up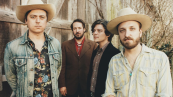 June 6, 2019
CLICK HERE to purchase tickets.
El Paso, Texas – June 6, 2019 – Way Out West Fest announced today the addition of The Wild Feathers to the artist line up at the country music festival on October 12, 2019 at Southwest University Park. The band is scheduled to open for Midland, the headlining band, along with two other acts yet to be announced.
The Wild Feathers are a group that is most at home on the highway, forever looking ahead to the next city and the next shared experience onstage. "When you're on the road, you're like cowboys in the Wild West going out into some neon frontier," says singer-guitarist Taylor Burns.
Their new album "Greetings from the Neon Frontier" finds The Wild Feathers reuniting with producer Jay Joyce, who oversaw the group's 2013 self-titled debut and 2016's Lonely Is a Lifetime. The band– packing a three-vocalist punch in Taylor, singer-guitarist Ricky Young and singer-bassist Joel King, along with drummer Ben Dumas – embrace their more countrified influences. Sounding partly like a lost Eagles album and the record Tom Petty never got to make, the album satisfies with thick harmonies, jangly guitars, in-the-pocket grooves and smart, tight songwriting. Their magic lies in their collaborations with one another. It's a fact of which each musician is keenly aware. "We're all smart enough to realize that while we're pretty good on our own, we're great together," says Ricky. "Whatever this is, it's special."
The fourth annual Way Out West Fest, El Paso's country music festival, will be held on Saturday October 12, 2019 at Southwest University Park and will feature Texas band and Grammy nominated, Midland, who will headline the festival.