Way Out West Fest Adds Desure To Festival Line Up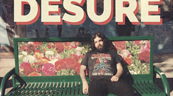 July 24, 2019
CLICK HERE to purchase tickets.
El Paso, Texas – July 24, 2019 – Way Out West Fest announced today the addition of Desure to the artist line up for this year's country music festival taking place on October 12 at Southwest University Park. The band is scheduled to perform on the Bud Light stage along with Midland, The Wild Feathers and one other act yet to be announced.
In 2018, Desure unveiled his debut single "Stranded Son" and stirred up a growing buzz. In the aftermath of its release, Rolling Stone lauded him among "10 New Country Artists You Need to Know." Between touring with Midland, the slick and swaggering song "Kick Rocks" followed as he continued to record the tracks that now comprise his 2019 debut EP. Blurring the lines between country, folk, indie, and rock, these six tracks formally introduce him. Come check him out at this year's WOW Fest, you won't be disappointed!
The fourth annual Way Out West Fest, El Paso's country music festival, will be held on Saturday October 12, 2019 at Southwest University Park and will feature Texas band and Grammy nominated, Midland, who will headline the festival.
Prices for tickets are $30 for GA, $45 for the Western Tech Party Zone Floor area and $150 for the TFCU VIP experience. The WestStar Club tickets have already sold out and the ticket prices will increase soon! More information on tickets and all ticket purchases may be made through www.epwayoutwest.com or www.southwestuniversitypark.com.