The 2022 Way Out West Festival Adds Texas Hill to Festival Line Up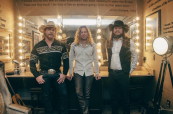 July 12, 2022
El Paso, Texas - July 12, 2022 - American country music band Texas Hill has been added to the 2022 Way Out West Festival line-up of artists that will perform on the Karbach Ranch Water Seltzer Country Concert Stage at Southwest University Park on Saturday, October 15th. Texas Hill will perform as one of the opening acts for Jon Pardi along with Tyler Booth and one other opener yet to be announced.
Texas Hill is a gritty amalgam of overlapping tastes and distinct voices that meet in the middle as a bold harmonic trio. Craig Wayne Boyd offers a voice full of gospel-tinged country smoke, Adam Wakefield blends a rootsy bluegrass-and-Americana rasp, and Casey James wraps it with a blue-eyed soul quality and deft blues guitar chops.
The result is a band that's both rock solid and highly adaptive. Texas Hill is instantly identifiable, thanks to its well-developed signature sound: a proud, in-your-face harmonic wall. But each of the three singers can, and does, take over the lead, inevitably pushing the group in his own unique direction while those harmonies allow the whole ensemble to hang on to its sonic center.
"When you hear Fleetwood Mac together, you know it's Fleetwood Mac," Wakefield says. "When you hear the Eagles singing, you know it's the Eagles. We have our own sound as a collective, and nothing shows that more than when we flip parts around and still sound the same. These three timbres together, regardless of what register they're in, they create their own sound."
"Everybody has strengths in different places, and that's what makes this so rewarding," James adds. "It's three lead singers, and we each can take the reins at different times. But we're also able to kick back and let somebody else take charge."
The Voice and American Idol worked in creating a fan base for all three. "When you go through something like that, the only people that can really relate to it are the ones who've also gone through it," Boyd notes. "The navigation is going to be just as hard as it ever was, but it's so much more rewarding when you're doing it as a group."
That connection helped forge Texas Hill. James and Boyd, who grew up 60 miles apart on the outskirts of the Dallas-Fort Worth metroplex, ran into one another at a 2019 event in Nashville and dove into conversation. As a direct result, Boyd invited James' family over the house for dinner, where they discovered their wives had attended middle school together in California. During the evening, James pulled a guitar off the wall and started jamming, and the music and harmonies flowed so freely that they decided to make it a regular occurrence.
Roughly a month later, Boyd brought Wakefield into the musical conversation, and when the three of them met up, Boyd introduced a song he'd just written. They fell into the chorus harmonies as if they'd been singing together for years, and it became the beginning of a new musical path. They still work their individual shows, but the trio format brought a comradery and a level of support that none of them had experienced on their own.
The sixth annual Way Out West Fest, El Paso's country music festival, will be held on Saturday October 15, 2022 at Southwest University Park and will be headlined by Texas singer/songwriter Jon Pardi.
More information on tickets and all ticket purchases may be made through www.epwayoutwest.com or www.southwestuniversitypark.com or call or text 915.533-BASE (2273). Military discount available through Govx.com.
More Way Out West Fest Announcements Coming Soon!
More Info about the Festival available at www.epwayoutwest.com
For more info about the Texas Hill go to:
https://www.texashillofficial.com
FB: @texashillofficial
IG: @texashillofficial

Way Out West Fest: Spicy chili, frosty margaritas, cold beer, and live country music! The unique sights, sounds, and flavors of three states and two nations will come together in the heart of downtown El Paso at the fourth annual Way Out West Fest, Saturday October 15, 2022! The day will be bursting with regional flair and talent, to include a Chili Challenge, The Hornitos Quest for the Best Margarita Contest, live music on The Karbach Ranch Water Seltzer Stage and much more. Way Out West will also feature a one-of-a-kind outdoor dance floor. Attendees can kick back, listen, two-step, or just sing along as national country artists perform live. EAT. DRINK. DANCE. EL PASO STYLE. Exceptional hospitality, delicious cuisine, and a fabulous climate… Just a few reasons to celebrate WAY OUT WEST- Where Texas Begins and the Honky Tonk Fiesta never Ends!