Springfoot Marathon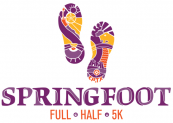 February 19, 2017
Read More
For the third consecutive year, the El Paso marathon returns to Southwest University Park as Michelob Ultra presents the Springfoot Marathon, the TFCU Half Marathon and the Up and Running 5K & Walk!
The marathon will be held on Sunday, February 19, 2017. Buses for the Michelob Ultra Marathon will depart from Southwest University Park will depart promptly at 5:30 a.m. outside the Durango St. entrance. The marathon will start at the Hospitals of Providence East Campus at 7 a.m.
The TFCU Half Marathon and the Up and Running 5K and Walk are slated to start at 7 a.m. at Southwest University Park.
To register or for more information, please visit springfoot.org.
---
MICHELOB ULTRA MARATHON
Celebrating its tenth year, the Michelob Ultra El Paso Marathon has now become the 2017 Michelob Ultra Springfoot Marathon, half marathon and 5K. Its scenic course will give runners a taste of the city's different neighborhoods, from upscale new developments in the far east sections to the urban Victorian homes on Montana Avenue that date to the 19th century.
Starting at the east El Paso campus of the The Hospitals of Providence, the course will head east on Tierra Cortez Avenue, letting runners enjoy sunrise over the Hueco Mountain to the northeast, and miles of rugged desert for as far as the eye can see.
For more information, CLICK HERE.
---
TFCU HALF MARATHON
The TFCU Half Marathon is staged in historic downtown El Paso and continues through the Historic Austin Terrace neighborhood before heading back downtown to the finish line. This new route is sure to become a local favorite.
For more information, CLICK HERE.
---
UP AND RUNNING 5K AND WALK
The Up and Running 5K Run & Walk is an affordable event for the entire family. This downtown El Paso event features a scenic route around some of El Paso's more historic buildings and runs by the historic Magoffin home, before heading back to the finish line.
For more information, CLICK HERE.