Southwest University Park to Host Soccer Exhibition Match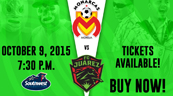 September 25, 2015
CLICK HERE TO PURCHASE TICKETS!
EL PASO – September 25, 2015 – Southwest University Park, in conjunction with Leg Up Entertainment, present the first ever soccer exhibition match featuring FC Juarez of the Ascenso MX League and Monarcas Morelia of the Liga MX. The exhibition will take place on Friday, October 9th at 7:30 p.m. with gates opening at 6 p.m.
"When we envisioned a new downtown venue, we promised to host a variety of different entertainment events," said Josh Hunt, MountainStar's CEO. "As part of our fulfilling that commitment we are proud to bring the first soccer match to Southwest University Park."
"It is an honor to host teams from Mexico's premier soccer leagues here in El Paso," said Alan Ledford, MountainStar President. "Southwest University Park is a great venue for multiple types of events and we look forward to continuing the tradition of hosting first class events."
Season Seat Holders will have a pre-purchase opportunity today, September 25th. Tickets go on sale to fans who attend tonight's GECU Mexican Baseball Fiesta presented by S-Mart beginning at 6 p.m. and to the general public tomorrow, September 26th at 10 a.m.
Tickets may be purchased online at SouthwestUniversityPark.com or in person at the Durango Box Office. The box office is open Monday-Friday, 10 a.m.-5 p.m. and Saturdays 10- a.m.-4 p.m.
"This is a great opportunity for El Pasoans to see world-class soccer and to support their neighboring team. We look forward to playing in El Paso," said Alejandra de la Vega Foster, President of FC Juarez and part owner of MoutainStar Sports Group.
FC Juarez debuted on July 25, 2015. They are currently in fifth place in the Ascenso MX League, the second level of professional soccer in the Mexican league system, with a 4-2-2 record.
Based in Morelia, Michoacán, Monarcas Morelia (4-5) plays in the Liga MX, the premier league in Mexico. Morelia, founded in 1924, is the 2010 SuperLiga champion. More recently, Morelia won their first Copa MX title in 2013 that allowed them to participate in the first Supercopa MX edition, defeating Tigres UANL, 5-4.
For more information, call (915) 533-BASE.
###