Southwest University Park to Host Chihuahuas Cheer & Dance Competition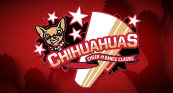 January 6, 2022
EL PASO – January 6, 2022 – Leg Up Entertainment and Superior Festivals is proud to announce the return of the Chihuahuas Cheer and Dance Classic, to be held on Saturday, February 26, 2022 at Southwest University Park! The dance competition is slated for 8:30 a.m. with the cheer portion scheduled to begin at 2 p.m.
Registration is now open and closes on February 12, 2022 and payment deadline is February 19, 2022.
General admission is $15 per person and children three and under are free. To purchase tickets, CLICK HERE. As a reminder, Southwest University Park is a cashless and clear bag/no bag venue.
Registration fees are as follows:
DANCE (Groups and Solo):
$150 per team (seven or more)
$150 per ensemble
$150 per exhibition
$75 per solo routine
CHEER (Groups and Solo):
$150 per team
$75 per solo
$150 per exhibition
For a complete list of rules and regulations and to register for the Chihuahuas Cheer & Dance Competition, visit superiorfestivals.com.