Monarcas Morelia vs FC Juarez Credential Request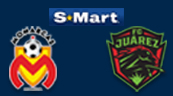 October 4, 2015
Read More
This site is intended for use by members of media only. No credential requests by media will be accepted by either email or phone, but must go through this credential site for game credentials. Credential requests must be made NO LATER THAN 5 p.m. on September 11, 2015. Credential requests will not be accepted at walk-up.
Terms and Conditions: Leg Up Entertainment/Southwest Universit Park will only credential working media from an accredited agency. Working media are those individuals who are specifically covering the Monarcas Morelia vs FC Juarez soccer game for an accredited agency. It is at Leg Up Entertainment/Southwest Universit Park's discretion whether a requesting accredited agency is approved for a Monarcas Morelia vs FC Juarez soccer game credential at Southwest University Park.
Due to limited seating, not all credential requests will be accepted.
The working credential is issued for the sole purpose of providing Southwest University Park access in designated areas to an accredited agency's employee who has a legitimate working function.
The bearer of the credential must abide by all rules of Southwest University Park and directions given by the ballpark/security personnel.
The credential is non-transferable. Any unauthorized use of the credential subjects the bearer to forfeiture of the credential and ejection from Southwest University Park and denial of future season requests.
___________________________________
Esta página está diseñada para ser utilizada exclusivamente por los medios de comunicación. No se aceptarán solicitudes de credenciales para los medios de comunicación por correo electrónico o teléfono, pero si deberán de usar esta página para la solicitud de credenciales para el partido. Solicitudes de credenciales no serán aceptadas en persona en Southwest University Park.
Términos y Condiciones: Leg Up Entertainment sólo otorgará credenciales a los medios de trabajo de una agencia acreditada. Los credenciales se otorgarán a todo representante de la agencia acreditada del medio de comunicación únicamente para aquellos individuos que estáran cubriendo específicamente el partido Monarcas Morelia vs FC Juarez. Es a discreción de Leg Up Entertainment si una solicitud es aprobada para una agencia acreditada que esté solicitando credenciales para el partido en Southwest University Park.
Debido al acceso limitado, no se aceptarán todas las solicitudes de credenciales.
El credencial de prensa está diseñado con el propósito de brindar acceso a las agencias acreditadas que tienen función de trabajo legítimo.
El portador del credencial de prensa debe cumplir con todas las reglas de Southwest University Park y las instrucciones dadas por el personal del estadio y personal de seguridad.
El credencial no es transferible. Cualquier uso no autorizado del credencial somete al portador a la pérdida del credencial y la expulsión de Southwest University Park y la negación de solicitudes futuras.