JON PARDI TO HEADLINE 2022 WAY OUT WEST COUNTRY MUSIC FESTIVAL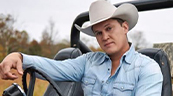 April 28, 2022
El Paso, Texas April 28, 2022: American Country singer/songwriter, Jon Pardi, will headline the Sixth Annual Way Out West Country Music Festival (WOW Fest) to be held on Saturday, October15th at Southwest University Park. The annual country music festival will also feature additional top country music acts from across the U.S. that will to be announced throughout the summer.
Jon Pardi is an American Country Music (ACM)/Country Music Awards (CMA) award-winning artist that recently released the Country radio single "Tequila Little Time," the follow up to his Platinum-certified #1 song, "Heartache Medication" and his Billboard Top 5 "Ain't Always The Cowboy."
In 2020, Pardi was the first Country artist to have two #1 singles on Country Radio and closed the year with the release of Heartache Medication Deluxe Edition, issued on the heels of his first CMA Album of the Year nomination, his second consecutive ACM Album of the Year nomination, and the Platinum-certification of title track "Heartache Medication." Heartache Medication (Deluxe Edition) followed the release of "Ain't Always The Cowboy" (Western Version) and RANCHO FIESTA SESSIONS - an eight-song album that features a combination of songs Pardi is both inspired by, and loves to perform. His ACM/CMA nominated album, HEARTACHE MEDICATION, debuted among the top albums on Billboard's Country Albums chart and was named on Rolling Stone's "Best Albums of the Year" and The Los Angeles Times "Best Albums of the Year" (#4) list as the only country artist/album represented.
A "hero in the making" (Variety), Pardi is noted for his "long-lasting mark on the genre" (Music Row) and his impressive ability to carve out his own path creating "the kind of country music multiple generations came to know, and love can still work on a mass scale" (Variety). Filled with fiddle, twang and steel guitar, Pardi continues to "apply new ideas to country's old sounds" (Los Angeles Times) and "bring authenticity back into Country music" (People).
Fans can now purchase tickets to the Way Out West Country Music Festival starting today at the Southwest University Park box office, online at www.epwayoutwest.com or www.southwestuniversitypark.com or by calling (915) 533-BASE. Military savings are available through GovX.com.
WOW Fest will also feature the Quest for the Best Margarita contest, a Chili Challenge, a one-of-a-kind outdoor dance floor, unique retail and craft vendors, plenty border food favorites along with ice cold drinks! Kick back with a frosty beverage and sing along or grab your partner and two-step under the stars!
Live Country music, delicious food, and a fabulous climate… Just a few reasons to celebrate WAY OUT WEST – where Texas begins and the Fiesta never ends!
Follow Jon Pardi here:
Official Website: www.jonpardi.com
Facebook: https://www.facebook.com/jonpardi
Instagram: https://www.instagram.com/jonpardi
Videos available at: (38) Jon Pardi - YouTube