JAKE OWEN TO HEADLINE 2017 WAY OUT WEST COUNTRY MUSIC FESTIVAL/PURCHASE TICKETS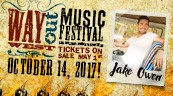 April 24, 2017
Hang on to your hats, El Paso! The Second Annual Way Out West Country Music Festival (WOW Fest) is scheduled for Saturday, October 14th at Southwest University Park. El Paso's own country music festival will deliver the best in country music for its fans as country music sensation Jake Owen will headline the ZiegenBock Stage! Opening for Owen is Canaan Smith and will feature special guests – the country duo of Walker McGuire and rising newcomer Brooke Eden.
Prices for tickets are $30 for GA, $50 for the Western Tech Party Zone Floor area, $60 for the West Star Bank Club and $120 for the Teacher's Federal Credit Union (TFCU) VIP Experience. Tickets are available at the Southwest University Box Office, online at SouthwestUniversityPark.com or by calling (915) 242-2000.
Jake Owen is no stranger to the spotlight, having recorded five top-ten albums and six No. 1 singles over the course of his 10-year career. His 2016 much anticipated album, American Love, features the debut single, American Country Love Song, which quickly emerged as the summer anthem of 2016.
Way Out West event-goers will have plenty to celebrate and raise a glass to in the fall Owens' new release "Good Company. Recently picked up by 31 stations in April, it already ranks as country radio's most added song and it is quickly gaining momentum on the country music charts.
Singer/Songwriter Canaan Smith will open for Owen. Smith has two No. 1 hits under his belt, Love You Like That and Hole in a Bottle and is currently working on a third with his new song Like You That Way which is steadily climbing the charts.
The Way Out West Fest announced they have added country music duo Walker McGuire to their line-up on the ZiegenBock Stage.
Jordan Walker and Johnny McGuire began to collaborate after meeting in Nashville almost four years ago. Since then they have been working on their song writing and will soon release a new album. The first single from that album is the hit " Til Tomorrow". They were recently listed as one of the top 10 country bands to watch in 2017 by Rolling Stone Magazine.
Lauded as Country Music's next big rising star, Brook Eden rounds out the 2017 WOW Fest line-up on the ZiegenBock State. Eden is a singer/ songwriter from Florida and has been on tour opening for Tim McGraw and Florida Georgia Line and just released her debut album "Welcome to the Weekend" which is quickly rising to the top of the charts. Her recent release Act Like You Don't gained huge popularity thanks to the notice of the Today show and Huffington Post leading to over 5 million Spotify streams so far.
The Way Out West Country Music Fest will showcase the unique southwestern style, and flavors that make El Paso great, to include: a Margarita contest, Chili Challenge, and a one-of-a-kind outdoor dance floor! Kick back with a frosty beverage and sing along or grab your partner and two-step under the stars!
Live Country music, delicious food, and a fabulous climate… Just a few reasons to celebrate WAY OUT WEST – where Texas begins and the party never ends!
For more information, visit www www.epwayoutwest.com.
WAY OUT WEST COUNTRY MUSIC FESTIVAL
Event Date: Saturday, October 14th, 2017
Gate: 4:00PM
Location: Southwest University Park
Tickets on Sale: Monday, May 1st
Tickets available at: By CLICKING HERE and the Durango Box Office.
For more information contact:events@epchihuahuas.com
Event information available at: www.epwayoutwest.com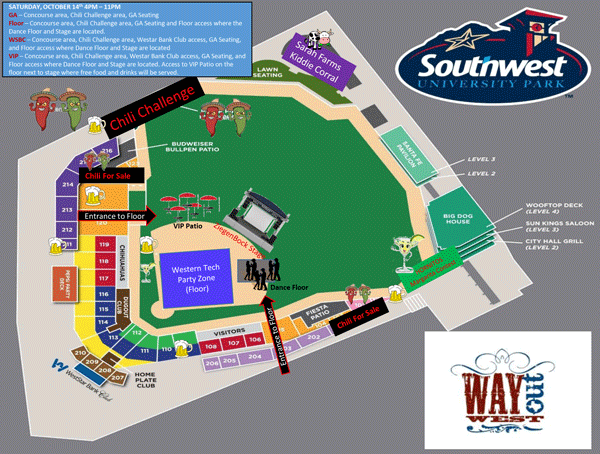 TICKET TYPE DESCRIPTIONS

Floor VIP Ticket– Get the TOTAL WOW Experience! The VIP ticket will give access to Ballpark Concourse area, the Chili Challenge area, the Ballpark GA seating areas and the Floor area where the Western Tech Fun Zone, the outdoor dance floor, the ZiegenBock main stage, and the TFCU VIP patio are located. The VIP patio area includes free drinks and food while supplies last as well as free parking at the UPPT garage on San Antonio Street and a fast pass through Ballpark clock tower entrance on Durango Street to avoid long lines.
Floor Ticket– The Floor ticket gives access to Ballpark concourse area, Chili Challenge area, the Ballpark GA Seating areas and Floor access where the Western Tech fun zone, the outdoor dance floor and the ZiegenBock main stage are located.
General Admission Ticket– The GA ticket gives access to Ballpark concourse area, the Chili Challenge area, and provides access to Ballpark GA seating areas.
WSBC Ticket– The Westar Bank Club ticket gives access to the Westar Bank Club, the Ballpark concourse area, the Chili Challenge area, the Ballpark GA Seating areas, and Floor access where the Western Tech fun zone, the outdoor dance floor and the ZiegenBock main stage are located.

If you purchase tickets, you may receive customer service messages via email from the El Paso Chihuahuas, including optional surveys regarding your baseball experience.
Way Out West Fest
Spicy chili, frosty margaritas, cold beer, and live country music! The unique sights, sounds, and flavors of three states and two nations will come together in the heart of downtown El Paso at the first-ever Way Out West Fest Saturday October 14th, 2017! The day will be bursting with regional flair and talent, to include a Chili Challenge, The Quest For The Best Margarita Competition, live music and much, much more. Way Out West will also feature a one-of-a-kind outdoor dance floor. Attendees can kick back, listen, two-step, or just sing along as national country artists perform live.