I LOVE THE 90's TOUR TO PERFORM AT SOUTHWEST UNIVERSITY PARK/PURCHASE TICKETS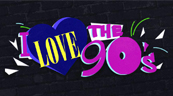 June 26, 2017
EL PASO – June 26, 2017 – It's biggest Dance Party in El Paso and everyone is invited! The I LOVE THE 90's TOUR is set to perform at Southwest University Park on Saturday, October 28th and will feature some of the most iconic names in Rap, Hip Hop and R&B giving audiences an opportunity to rediscover the music that influenced and defined a generation and contributed to making the '90s a decade to remember.
After a very successful 2016 with over 110 shows across North America, the I LOVE THE 90's TOUR will continue its momentum in 2017 with 40+ new stops in the United States and it's first-ever stop in El Paso, Texas this fall. The top-selling tour, which originally announced only 29 dates in 2016, quickly became the year's most sought-after show, eventually racking up 110+ stops and selling out a number of arenas across the country. This year promises fans the same unbelievable live experience, with a rotating lineup of the 90's most popular acts.
Hailed by Entertainment Weekly as an, "arena-sized dance party," and described by The Arizona Republic as, "a hit-filled trip down memory lane," the I LOVE THE 90's concert will be a nostalgia-filled night that includes a star studded line-up of six 90's artists all performing on one ticket.
The El Paso I LOVE THE 90's show will be headlined by Grammy award winning rap group Salt-N-Pepa who released several successful albums in the late 1980s and '90s, including A Salt with a Deadly Pepa and Blacks' Magic, which provided such hits as "Let's Talk About Sex," "Shoop" and "Whatta Man". The all-female group broke down a number of doors for women in hip-hop and they were also one of the first rap artists to cross over into the pop mainstream, laying the groundwork for the music's widespread acceptance in the early '90s. While songs like "Push It" and "Shake Your Thang" put the group on the top of the billboard charts during the late '80s, Salt-N-Pepa defied expectations and became one of the few hip-hop artists to develop a long-term career.
Also performing in the El Paso show are lead singer and songwriter of Sugar Ray, Mark McGrath who can lay claim to a stunning string of top 10 hits, multiple multi-platinum albums (including the RIAA 3x platinum certified "14:59"), and countless sold out tours; C&C Music Factory best known for their five hit singles: "Gonna Make You Sweat (Everybody Dance Now)," "Here We Go (Let's Rock & Roll)", "Things That Make You Go Hmmmm...", "Just a Touch of Love", and "Keep It Comin'"; all-male R&B Group All-4-One who's love ballots "I Swear" and "I Can Love You Like That" were the top songs at most high schools dances in the mid '90s; the German Eurodance Hip Hop group Snap!, who produced the 90's dance anthems "The Power", and "Rhythm Is A Dancer"; and last but not least, American Rapper and Actor, TONE LOC known for his hit songs "Wild Thing" and "Funky Cold Medina."
Tickets are on sale now and are available at the Southwest University Park Box Office, online by CLICKING HERE or by calling the ticket box office at 915.533.BASE.
A limited number of I Love the 90's Tour VIP packages are available, including exclusive Salt-N-Pepa VIP meet & greet packages, for details please visit www.southwestuniversitypark.com.
VIP PACKAGE OPTIONS
Salt-N-Pepa Meet and Greet Package
Package includes
•One premium reserved ticket located in the first 5 rows
•VIP early entry into the venue
•Exclusive preshow meet & greet with Salt-N-Pepa
•Personal photograph with Salt-N-Pepa
•Specially designed I Love the 90's tour shirt (exclusive to VIP package only)
•Collectible I Love the 90's tour poster
•CD copy of I Love the 90's: The Last Great Decade of Music
•Official Salt-N-Pepa meet & greet laminate
•Commemorative ticket
•Limited availability

I Love the 90's VIP Tour Package
Package includes
•One premium reserved ticket located in the first 10 rows
•Specially designed I Love the 90's tour shirt (exclusive to VIP package only)
•Collectible I Love the 90's tour poster
•CD copy of I Love the 90's: The Last Great Decade of Music
•Commemorative VIP laminate
•Commemorative ticket
•Limited availability