Fred Loya High School Baseball Series Presented by Sarah Farms Kicks Off Tonight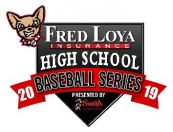 February 18, 2019
EL PASO – February 18, 2019 – The Fred Loya High School Baseball Series presented by Sarah Farms kicks off tonight, February 18, 2019, when the Coronado Thunderbirds take on the Canutillo Eagles at Southwest University Park. Admission is free and open to the public. The baseball series concludes with a doubleheader on April 22nd.
The series, in its fifth season, gives local high school baseball athletes the chance to play on a Triple-A baseball field. The games not only give high school athletes the chance to have the big-league experience, but also serve as a fundraiser for each team with a portion of each Chihuahuas ticket sold going back to the participating school.
A complete list of rules as well as details on the Fred Loya High School Baseball Series presented by Sarah Farms can be found on the Chihuahuas website at epchihuahuas.com or at SouthwestUniversityPark.com. For more information or to play a high school game at the ballpark, call or text Austin Weber at (915) 242-2027.
Fred Loya High School Baseball Series Presented by Sarah Farms Schedule
| | | |
| --- | --- | --- |
| February 18 | Coronado vs. Canutillo | 6 p.m. |
| February 19 (DH) | Franklin vs. Eastlake | 4 p.m. |
| | Montwood vs. Bel Air | 7 p.m. |
| April 17 (DH) | Ysleta s. Horizon | 4 p.m. |
| | Andres vs. Chapin | 7 p.m. |
| April 22 (DH) | Fabens vs. San Elizario | 4 p.m. |
| | Carlsbad vs. Faith Christian | 7 p.m. |
First team listed is the visitor.
Dates, teams and times are subject to change including the addition of baseball games.
Fred Loya High School Baseball Series Presented by Sarah Farms Southwest University Park Rules
Fans will be admitted for free to Southwest University Park.
Restrooms will be open at sections 109 and 115.
Concessions will be provided at the discretion of the Chihuahuas and Spectra Food Services.
Outside food will not be permitted.
The pre-determined home team will be allowed to bring a public address announcer and National Anthem performer.
A public address announcer will not be provided by the Chihuahuas.
The Chihuahuas will not provide an official scorer.
The scoreboard at Southwest University Park will be available.
Coaches must contact umpires to inform them of the location of the game.
Players and coaches must come ready to play. NO ACCESS to clubhouses/locker rooms or hitting tunnels.
Teams will not be allowed to take batting practice before the game. Teams will be allowed to take infield/outfield practice before the game.
Please utilize downtown parking space where available. This does not include Ballpark VIP parking behind the ballpark.
Bus parking will be coordinated through Chihuahuas Account Executive Austin Weber.
Southwest University Park is a smoke free facility including e-cigarettes.
Fred Loya High School Baseball Series Presented by Sarah Farms Field Rules
Please stay on the mound after throwing a pitch (Do not walk after every pitch to the catcher and receive the ball on the grass).
Umpires please stand on the dirt down the foul lines; not in the grass.
2B and SS please play on the infield dirt and not right on the grass edge.
1B and 3B should stay on the dirt as much as possible for positioning.
Warm up pre-game 20 ft. off the foul lines please (towards left-center and right-center field).
Keep warm up swings on the warning track please, not in the foul territory grass while on deck.
If sunflower seeds/gum are allowed please spit them in a cup and not all over the field/in front of the dugouts.
Hitters please lay bats down at home plate; don't spike in into the turfgrass; please do not throw bats back towards dugout.
Please only use one bullpen mound in each area.
Pitchers, please do not dig a hole in front of the rubber.
Please wear turf shoes as long as possible pregame; put your spikes on after warms-ups.
Please dump all water and ice from coolers down dugout drains. Do not throw it on the field.