FC Juarez to Take On Club Leon at Southwest University Park Information, Tickets, Credentials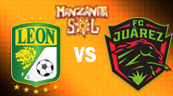 May 11, 2016
CLICK HERE TO PURCHASE TICKETS
EL PASO – May 11, 2016 – Professional soccer returns to Southwest University Park as Leg Up Entertainment presents an exhibition match between Club Leon of the first division Liga MX and FC Juarez of the Ascenso MX. The match will take place on Wednesday, July 6th at 7:00 p.m.
"We're proud to present world-class soccer to the Borderplex region in the beautiful setting at Southwest University Park," said Alan Ledford, MountainStar Sports Group President. "Local soccer fans will get the opportunity to see regional favorites FC Juarez Bravos play Club Leon, one of the most popular teams in Liga MX."
Season Seat Holders will have a pre-purchase opportunity beginning Thursday, May 12th and Paw-tial Plan Holders will be given the pre-sale opportunity on May 13th. Tickets go on sale to the general public on Saturday, May 14th at 10 a.m.
Tickets may be purchased online at www.SouthwestUniversityPark.com or in person at the two Southwest University Park box office locations. The Durango box office is open Monday-Friday, 10 a.m.-5 p.m. and Saturdays 10 a.m.-4 p.m. The Santa Fe box office is open Monday-Saturday, 11 a.m.-2 p.m. The advance ticket window inside the ballpark is open during all Chihuahuas home games.
FC Juarez (13-7-10), winners of the Apertura 2015 of the Ascenso MX league, are seeking a promotion to Liga MX, the premier soccer league in Mexico. The Bravos will play a home-and-home series on May 14 and 21 versus Club Necaxa for the chance to advance to the First Division.
Club Leon (9-5-3) out of Guanajuato, Mexico, currently ranks third in the Liga MX in the Clausura 2016. The team has won the Liga MX Primera Division title seven times, including as recently as Clausura 2014.
Club Leon's fan base is an international one due in large part to their goalkeeper, William Yarbrough, a dual citizen of the United States and Mexico. A member of the United States national team, Yarbrough received his first call-up in March of 2015. Other notable Club Leon players include Luis Montes from Juarez, Mauro Boselli, Argentina national team member and Josè Juan Vàsquez, a member of the Mexican national team.
For more information, call (915) 533-BASE or visit SouthwestUniversitPark.com.
CLICK HERE TO REQUEST MEDIA CREDENTIALS