FC Juarez and Club Necaxa to Rematch at Southwest University Park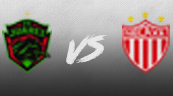 August 29, 2017
CLICK HERE TO PURCHASE YOUR TICKETS!

EL PASO – August 29, 2017 – Professional soccer returns to Southwest University Park as Leg Up Entertainment presents a friendly match between Club Necaxa of the first division Liga MX and FC Juarez of the Ascenso MX. The match will take place on Wednesday, October 4th at 7 p.m.
The two teams will face each other for the first time since Club Necaxa defeated FC Juarez, 2-0, on May 21, 2016, in the Ascenso MX championship that led to Necaxa's promotion to first division Liga MX.
"We look forward to welcoming world class soccer back to Southwest University Park on October 4th," said MountainStar Sports Group President Alan Ledford. "FC Juarez has a significant following here in El Paso, and Necaxa is a first division rival from their time in the Ascenso MX. No doubt it will be a very entertaining match for the many soccer enthusiasts in the Borderland."
Tickets may be purchased online at www.SouthwestUniversityPark.com or in person at the two Southwest University Park box office locations. The Durango box office will be open Monday-Friday, 10 a.m.-5 p.m. and the Santa Fe Box Office is open Monday-Friday, 11 a.m.-2 p.m. Both box offices are closed on weekends. The advance ticket window inside the ballpark is open during all Chihuahuas home games.
FC Juarez (3-2-1), Champions of the 2015 Apertura Season of the Ascenso MX League, currently sit third in league standings with 11 points. The Bravos are led by forwards Rodrigo Prieto and Leandro Carrijó and midfielders Lucas da Silva and Mauro Fernanadez. Prieto, Carrijó and Da Silva have each seen action in six games and Prieto and Carrijó have a team-leading two goals each. Fernández has produced one goal in his first three appearances with the Bravos.
Necaxa (3-3-1) out of Aguascalientes, Mexico, currently ranks fifth in Liga MX having earned nine points. After spending five years in Ascenso MX, they were promoted to Liga MX after defeating the Bravos to win the Ascenso MX final. Necaxa has a successful history having won three Liga MX titles (1994, 1995, 1998), four Ascenso MX championships (Clausura 2009, Bicentenario 2010, Apertura 2014, Clausura 2016), won the Campeón de Campeones twice, and finishing third in the 2000 FIFA Club World Cup.
Necaxa's first-year coach, Marcos Ambriz, is no stranger to the team, as he was a vital part of their history having played on the championship teams of 1995 and 1996.
Necaxa is led by American-born defender, Miguel Ponce, who was a member of the Mexican National U23 team that won gold at the 2011 Pan American Games. He is currently on loan from Club Deportivo Guadalajara (Chivas). Since his transfer in June he has started three games of his four appearances this year.
Necaxa's keeper is Marcelo Barovero of Argentina who transferred to Necaxa from River Plate on July 9, 2016. Barovero has made 31 appearances since the transfer, including seven this season with three shutouts and 24 saves. The team is also paced by midfielder, Jesus Isijara, who has appeared in six games this season and has recorded two goals.
For more information, call (915) 533-BASE or visit SouthwestUniversityPark.com.
VIP PACKAGE
Watch the game from beside the benches in this VIP Package!
Package Includes:
Early entry
Seats on the field are in close proximity to both FC Juarez and Necaxa benches
Private Food & Beverage Field Attendant
Private Restrooms
Postgame On Field Experience - Shots on Goal
FAMILY FOUR PACK
For just $88 you will receive:
4 tickets
4 hotdogs
4 20 oz. sodas
1 tub of popcorn
IN PERSON PURCHASE ONLY:
Available for purchase at the Southwest University Park Durango Box Office (no phone, no internet purchases).
The Family Four Pack includes: Four (4) tickets in Zone K, four (4) individual food vouchers, one (1) tub of popcorn voucher.
Each individual food voucher includes: one (1) hotdog and one (1) 20 oz. soda.
The entire Family Four Pack will receive only (1) one tub of popcorn voucher.
NEED ADDITIONAL SEATS FOR THE FAMILY FOUR PACK?
In the event a fan requires more than four tickets, fans can purchase one (1) Family Four Pack and any additional tickets/vouchers can be purchased for $22 per person. The individual offer will include: One (1) hotdog, one (1) 20 oz. soda, 1 ticket). Tub of popcorn is not included with any additional ticket purchases fans must buy a Soccer Premium Family Four Pack in its entirety. Additional seats can only be purchased once a Family Four Pack has been purchased for that specific game. Family Four Pack is only valid for purchase in person at the Southwest University Park Durango Box Office. Advanced purchase is required. Family Four Pack will be sold based on availability. Family Four Pack food vouchers can only be redeemed the night of the designated game that is stamped on the vouchers. Vouchers can be redeemed at Monchis, Rio Grande Grill and Alligator Alley. Family Four Pack only valid on date stamped.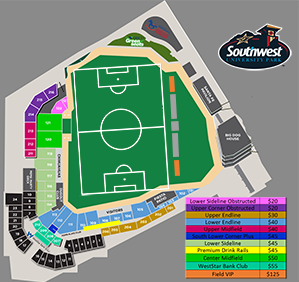 EL PASO - 29 de agosto del 2017 - Fútbol profesional regresa a Southwest University Park, mientras que Leg Up Entertainment presenta un partido amistoso entre Club Necaxa de la primera división Liga MX y FC Juárez del Ascenso MX. El partido se llevará a cabo el miércoles, 4 de octubre a las 7 p.m.
Los dos equipos se enfrentarán por primera vez desde que el Club Necaxa derrotó a FC Juárez, 2-0, el 21 de mayo del 2016, en el campeonato Ascenso MX que llevó a la promoción de Club Necaxa a la primera división Liga MX.
"Esperamos poder dar la bienvenida al fútbol, de clase mundial, de vuelta a Southwest University Park el 4 de octubre", dijo Alan Ledford, presidente de MountainStar Sports Group. "FC Juárez tiene un importante seguimiento aquí en El Paso, y Necaxa es un rival de primera división de su tiempo en el Ascenso MX. Sin duda será un partido muy entretenido para los muchos aficionados del fútbol en la frontera."
Los boletos se pueden comprar en el internet en www.SouthwestUniversityPark.com o en persona en las dos ubicaciones de taquilla en Southwest University Park. La taquilla de Durango está abierta de lunes a viernes, de 10 a.m. a 5 p.m. y los sábados de 10 a.m. a 4 p.m. La taquilla de Santa Fe está abierta de lunes a viernes, de 11 a.m. a 2 p.m. Estan cerados el sabado y domingo. La ventanilla de avance dentro del estadio estará abierta durante todos los partidos en casa de los Chihuahuas.
FC Juárez (3-2-1), Campeones de la Apertura 2015 de la Liga MX Ascenso, actualmente ocupa el tercer lugar en la clasificación de la liga con 11 puntos. Los Bravos están liderados por los delanteros Rodrigo Prieto y Leandro Carrijó y los centrocampistas Lucas da Silva y Mauro Fernández. Prieto, Carrijó y Da Silva han visto acción en seis partidos y Prieto y Carrijó tienen dos goles cada uno. Fernández ha producido un gol en sus tres primeras apariciones con los Bravos.
Club Necaxa (3-3-1) de Aguascalientes, México, ocupa actualmente el quinto lugar en la Liga MX, habiendo ganado nueve puntos. Después de pasar cinco años en Ascenso MX, regresaron a la primera division después de derrotar a los Bravos para ganar el Ascenso MX. Necaxa tiene una exitosa historia al ganar tres títulos de Liga MX (1994, 1995, 1998), cuatro campeonatos Ascenso MX (Clausura 2009, Bicentenario 2010, Apertura 2014, Clausura 2016), ganaron el Campeón de Campeones dos veces y terminaron tercero en la 2000 Copa Mundial de Clubes de la FIFA.
El director técnico de primer año de Club Necaxa, Marcos Ambriz, no es ajeno al equipo, ya que fue una parte vital de su historia al haber jugado en los equipos de campeonato en 1995 y 1996.
Club Necaxa es liderado por el defensa estadounidense, Miguel Ponce, que fue miembro del equipo nacional mexicano Sub 23 que ganó oro en los Juegos Panamericanos 2011. Actualmente está en préstamo del Club Deportivo Guadalajara (Chivas). Desde su traslado en junio, ha iniciado dos partidos de sus tres apariciones este año.
El portero de Club Necaxa es Marcelo Barovero, de Argentina, quien se trasladó a Necaxa desde River Plate el 9 de julio del 2016. Barovero ha jugado 31 partidos desde la transferencia, incluyendo siete esta temporada con tres partidos en que mantuvo el cero y 24 atajadas. El equipo también es liderado por el mediocampista, Jesús Isijara, que ha aparecido en seis partidos esta temporada y ha registrado dos goles.
Para más información, llame al (915) 533-BASE o visite www.SouthwestUniversityPark.com.