CHIHUAHUAS CHEER & DANCE CLASSIC RETURNS TO SOUTHWEST UNIVERSITY PARK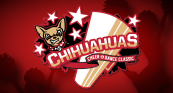 January 16, 2023
EL PASO – January 16, 2023 – The Chihuahuas Cheer and Dance Classic returns to Southwest University Park on Saturday, March 4, 2023. The dance competition is slated for 8:30 a.m. with the cheer portion scheduled to begin at 2 p.m.
Registration is now open and closes on February 18, 2023 and payment deadline is February 25, 2023.
General admission is $15 per person and children three and under are free. To purchase tickets, CLICK HERE.
Registration fees are as follows:
DANCE (Groups and Solo):
$150 per team (seven or more)
$150 per ensemble
$150 per exhibition
$75 per solo routine
CHEER (Groups and Solo):
$150 per team
$75 per solo
$150 per exhibition
For a complete list of rules and regulations and to register for the Chihuahuas Cheer & Dance Competition, visit superiorfestivals.com.
Southwest University Park is a clear/no bag and cashless venue.