Chihuahuas Cheer and Dance Classic Registration Now Open/Warm Up Area Presented by Sarah Farms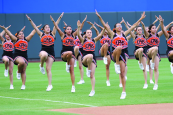 January 6, 2020
CLICK HERE TO PURCHASE EVENT TICKETS
EL PASO – January 6, 2020 – Leg Up Entertainment and Superior Festivals is proud to present the Chihuahuas Cheer and Dance Classic to be held on Saturday, February 29, 2020 at Southwest University Park!
Teams from the southwest region are invited to participate! The dance competition is slated for 8:30 a.m. with the cheer portion scheduled to begin at 2 p.m.
Registration closes on February 14, 2020 and payment deadline is February 21, 2020.
Registration fees are as follows:
DANCE (Groups and Solo):
$150 per team (seven or more)
$150 per ensemble
$150 per exhibition
$50 per solo routine
CHEER (Groups and Solo):
$150 per team
$50 per solo
$100 per exhibition
Please see below for rules and regulatios. CLICK HERE for more information.

TIME LIMITS
Team or Rec - Rules & Restrictions
• Each team will perform a choreographed routine not to exceed 2 minutes and 30 seconds (150 seconds).
• Up to 90 seconds of the routine may be performed to music 60 seconds must equal cheer.
• No voice-overs or words may be recorded to make the team's vocal projection sound louder.
All Star - Rules & Restrictions
• Each team will perform a choreographed routine not to exceed 2 minutes and 30 seconds (150 seconds).
• Music is required for all of the routine.
• A .5 penalty will be assessed if music is not used for the entire routine.
BEST CHEERLEADER - RULES & RESTRICTIONS
• Each participant will perform for a maximum of 90 seconds and in the following order: three consecutive jumps, tumbling pass, and a cheer.
• Music IS NOT allowed.
• A partner may not be used during the performance.
• Judging is based on voice projection, showmanship, cheer execution, spirit, and ability in the areas of jumps and tumbling, as well as overall impression.
• There will be a .5 penalty if more than five tricks are performed in your cheer and a separate penalty if the routine exceeds the time limit.
TOP STUNT - RULES & RESTRICTIONS
• Groups of no more than four (4) cheerleaders. May have only one (1) male per group.
• Participants must be 9–12th grade and must be from the same squad/school/gym.
• Groups will have no more than 45 seconds to perform their stunt sequence.
• Each group must have at least one (1) extended stunt from a full down.
• Group will be dged on difficulty, execution, overall technique, and overall performance.
OVERALL GENERAL RULES
• All teams will follow standard competition and safety guidelines as printed on the waiver form.
• To ensure the competition runs as efficiently as possible, no teams will be allowed to change their performance order. Additionally, there will be no division changes allowed after the registration deadline. No refunds will be given once a team is registered.
• Before the day of competition, all participants must complete the Release and Waiver Form. This MUST be signed by Parent or Legal Guardian for the participant to be able to perform. All Participant forms must be given to the Registration Table upon checking into the competition.
COMPETITION SPECTATORS
Friends and families are more than welcome to watch the cheer & dance competition. Tickets will be sold through the Southwest University Park Box Office and can be purchased before and on the day of competition. Advanced ticket purchase is suggested. Click here to purchase.
Admission – $10 + Tax
Children under 3 – Free
REGISTRATION CHECKLIST
• Complete Cheer Registration Form
• Check division
• List number of participants in each specific division
• Indicate number of teams and total due
• Complete online registration
• Registration form should be completed by February 14, 2020. Payment should be completed and/or postmarked by February 21, 2020.
NO PERSONAL CHECKS
Methods of payment: School or business checks, money orders, school purchase orders or PayPal.
LATE FEE POLICY
It is extremely important we receive your payment before the deadline. If payment is not received by February 21, 2020, the prices will increase to:
Team – $200/team
Solos – $100/individual
Exhibition – $200/exhibition
REFUND POLICY
A full refund will be made for any registered event up to the designated cancellation deadline. After the designated deadline, there will be no refund and arrangements for full payment will need to be made. If payment is not made by the designated deadline, responsible parties will need to arrange for payment ASAP.
CANCELLATION POLICY
Cancellations of any registered event must be made in writing to Superior Festivals by the designated registration deadline.