Ballpark Buzz | November 24, 2020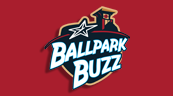 November 24, 2020

El Paso Chihuahuas & El Paso Locomotive Foundations Launch Virtual Toy Drive – Chico & Ozzy Holiday Giveback Presented by Helen of Troy
The El Paso Chihuahuas and El Paso Locomotive Foundations announced today a virtual toy drive – the Chico and Ozzy Holiday Giveback presented by Helen of Troy. The initiative will help raise money to purchase toys for children at Child Crisis Center of El Paso and the Lower Dyer Community Center, a proud partner of the GECU Foundation. A minimum of $5 is required for a donation. Patrons who donate will be entered to win a grand prize that includes jerseys, tickets to Chihuahuas and Locomotive games and more!

Defender Eder Borelli and Forward Leandro Carrijo Return for 2021 Season
El Paso Locomotive FC announced its continuing partnership with Borderplex sister club, FC Juarez, welcoming Defender Eder Borelli and Forward Leandro Carrijo for the 2021 season, pending league and federation approval.
Chihuahuas Named El Paso Inc.'s Best of the Best Sports Team for Seventh Consecutive Year
The El Paso Chihuahuas were once again named El Paso Inc.'s Best of the Best Sports Team for the seventh year. Despite the cancelation of the 2020 season by Minor League Baseball, the Chihuahuas and El Paso Locomotive FC made a commitment to community efforts via the non-profit program, Chico parades, and remained engaged with interactive content on social media. For a complete list of winners, download the new Best of the Best app today.
Former MLB All-Star Yonder Alonso Retires
Ten-year major leaguer Yonder Alonso announced his retirement on Saturday. Alonso spent time with the El Paso Chihuahuas in 2014 and 2015 on MLB injury rehab assignments. He played for the Reds, Padres, Athletics, Mariners, Indians, White Sox and Rockies in his big league career. (MLB.com, 11/21/2020)
Chihuahuas and Locomotive Team Shops to Offer Special Deals on Black Friday and Cyber Monday
In anticipation of the holiday season, the Chihuahuas and Locomotive have the best selections of gear for your loved ones this holiday season and will offer special savings on Black Friday and Cyber Monday. Both retail shops are open Monday-Friday from 10 a.m.-5 p.m. Specials will also be available online.
Chihuahuas Team Shop: CLICK HERE
Locomotive Team Shop: CLICK HERE
When You Buy El Paso ...You ❤ El Paso
Dozens of local businesses have taken the City of El Paso's Pledge to Safety to take additional measures to keep their employees and customers safe. They're providing appropriate personal protective equipment, facilitating social distancing in their businesses and using technology possible to reduce the spread of COVID-19.
---
BALLPARK CONTACT INFORMATION
| | | | | |
| --- | --- | --- | --- | --- |
| | | | | |
| ANGELA OLIVAS | TIM HAGERTY | SARAH NOLLNER | DERICK FOX | GINA ROE-DAVIS |
| El Paso Chihuahuas | El Paso Chihuahuas | El Paso Locomotive FC | El Paso Locomotive FC | Leg Up Entertainment |
| Sr. Director, Marketing & Communications | Sr. Manager, Broadcast & Media Relations | Director, Marketing & Communications | Manager, Communications | Director, Special Events |
| Email: aolivas@ | Email: thagerty@ | Email: snollner@ | Email: dfox@ | Email: groe-davis@ |
---