Ballpark Buzz | January 5, 2021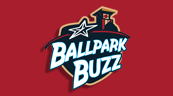 January 5, 2021

Padres Go All-in, Make Snell, Yu Deals Official
The San Diego Padres traded for two All-Star pitchers on the same day, acquiring Yu Darvish and Blake Snell on December 29. The Padres had the second-best record in the National League in 2020 and these moves made their roster even better. (AJ Cassavell, MLB.com, 12/30/2020)
Former Chihuahuas Catcher Francisco Mejia Traded
Francisco Mejia, who caught for the El Paso Chihuahuas in 2018 and 2019, was traded by the San Diego Padres to the Tampa Bay Rays in the Blake Snell deal on December 29, 2020. Mejia played 49 total games for El Paso. (Michael Bradburn, The Score, 12/29/2020)
Niall Logue Bolsters Defensive Line
Locomotive FC closed out 2020 strong, making several roster announcements including a slew of returning players as well as a new addition to the squad. More announcements are coming in 2021.
So far, the El Paso club has announced 10 players returning from the 2020 USL Championship season, keeping a core group that helped lift the team to a second consecutive Western Conference appearance. 2020 clean sheet leader Logan Ketterer returns to goal, backed by Eder Borelli, Macca King and Yuma. Dylan Mares returns to spearhead the midfield alongside Chapa Herrera, Bryam Rebellon, Nick Ross, and Richie Ryan while Leandro Carrijo leads the attack. Newcomer Niall Logue bolsters the defensive line as the latest new signing for Locomotive.
El Paso Locomotive FC's roster as it currently stands headed into the 2021 USL Championship season, listed alphabetically by position, is below:
Goalkeepers (1): Logan Ketterer
Defenders (4): Eder Borelli, Macca King, Niall Logue, Yuma
Midfielders (5): Louis Herrera, Dylan Mares, Bryam Rebellon, Nick Ross, Richie Ryan
Forwards (1): Leandro Carrijo
4 Major Trends for the Event Industry in 2021
A look at the top four trends for the events industry in 2021 (eventindustrynews.com, 1/4/2021)
---
BALLPARK CONTACT INFORMATION
| | | | | |
| --- | --- | --- | --- | --- |
| | | | | |
| ANGELA OLIVAS | TIM HAGERTY | SARAH NOLLNER | DERICK FOX | GINA ROE-DAVIS |
| El Paso Chihuahuas | El Paso Chihuahuas | El Paso Locomotive FC | El Paso Locomotive FC | Leg Up Entertainment |
| Sr. Director, Marketing & Communications | Sr. Manager, Broadcast & Media Relations | Director, Marketing & Communications | Manager, Communications | Director, Special Events |
| Email: aolivas@ | Email: thagerty@ | Email: snollner@ | Email: dfox@ | Email: groe-davis@ |
---