Ballpark Buzz | January 19, 2021 | Issue 17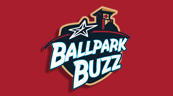 January 19, 2021

Matt Bahner Bolsters 2021 Locomotive Back Line
El Paso Locomotive FC announced defender Matt Bahner will return for the 2021 USL Championship season, after joining the team mid-season last year. Bahner came to the club as a signing "with an eye towards the future" according to Head Coach Mark Lowry, bringing a plethora of experience across USL and depth to an already ironclad defensive line.
El Paso Locomotive Youth Soccer Adds Michael Balogun and Ana Guevara
Locomotive Youth Soccer expanded its front office staff, adding Michael Balogun and Ana Guevara. Balogun brings with him experience as both a player and a coach having made appearances with the U-17 US Men's National Team and earning his USSF B Coaching License. Ana Guevara joins as an Administrative Coordinator, making the move after having helped the club in various positions. The two join J.C. Garzon as part of the front office, paving new opportunities for youth soccer in El Paso.
Former Chihuahua Signs With Detroit Tigers
Aderlin Rodriguez, who played in 75 games for the El Paso Chihuahuas in 2019, has signed a minor league contract with the Detroit Tigers. Rodriguez hit .321 with 19 home runs for El Paso and spent the 2020 season with the Orix Buffaloes in Japan. (MLB.com, 1/16/2021)
---
BALLPARK CONTACT INFORMATION
| | | | | |
| --- | --- | --- | --- | --- |
| | | | | |
| ANGELA OLIVAS | TIM HAGERTY | SARAH NOLLNER | DERICK FOX | GINA ROE-DAVIS |
| El Paso Chihuahuas | El Paso Chihuahuas | El Paso Locomotive FC | El Paso Locomotive FC | Leg Up Entertainment |
| Sr. Director, Marketing & Communications | Sr. Manager, Broadcast & Media Relations | Director, Marketing & Communications | Manager, Communications | Director, Special Events |
| Email: aolivas@ | Email: thagerty@ | Email: snollner@ | Email: dfox@ | Email: groe-davis@ |
---