Ballpark Buzz | January 12, 2021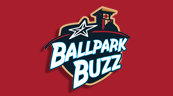 January 12, 2021

El Paso Locomotive Adds Forward Aidan Apodaca to 2021 Season Roster
Locomotive welcomes former Reno 1868 FC Forward Aidan Apodaca on Tuesday. Apodaca joins El Paso after helping lift Reno to the top of the league in the 2020 USL Championship season, with three goals in just 11 appearances. Boasting one of the best goals per minute averages in the league with 72.7 minutes, Apodaca bolsters the Locomotive offensive.
Locomotive FC Inks Record Setting Phoenix Rising Midfielder José Aguinaga
El Paso Locomotive signed Midfielder José Aguinaga from Western Conference rival Phoenix Rising FC on Friday. Over the last two years, Aguinaga has helped lift Rising to a North American record-setting win streak, a 2019 USL Championship Regular Season Title win, as well as a 2020 Western Conference title win. Aguinaga joins an already successful Locomotive side, increasing the Sun City's threat in the attacking third.
Former Chihuahuas Catcher Signs With Reds
Longtime El Paso Chihuahuas catcher Rocky Gale has signed a minor league contract with the Cincinnati Reds. Gale spent parts of the 2014-2017 seasons with El Paso and played in 22 major league games with the San Diego Padres and Los Angeles Dodgers from 2015-2019. Gale is one of the 59 players to make their MLB debut after playing for the Chihuahuas. (MLB.com, 1/8/2021)
Chihuahuas and Locomotive to Offer 25% Off Caps for National Hat Day Friday
In honor of National Hat Day Friday, January 15, 2021, the Chihuahuas and Locomotive will offer fans 25% off caps and hats in their respective Team Shops. The 25% savings includes Chihuahuas New Era On-Field caps. The sale begins at midnight on Friday morning and ends at 11:59 p.m.
CLICK HERE for the Chihuahuas Team Shop
CLICK HERE for Locomotive Team Shop
Texas Announces Sites for Next COVID-19 Vaccine Shipment
State health officials said Sunday that 28 hubs will be getting 158,825 doses this week.
Businesses Looking for Financial Assistance Can Still Apply for Grants
On January 5, 2021, the County of El Paso will make $10 million available to aid small businesses located in El Paso County which have been negatively impacted by COVID-19 through its Financial Assistance for Safety, Technology and Economic Resilience (FASTER) program. This assistance is available in several forms, including grants, loans, and technical assistance.

---
BALLPARK CONTACT INFORMATION
| | | | | |
| --- | --- | --- | --- | --- |
| | | | | |
| ANGELA OLIVAS | TIM HAGERTY | SARAH NOLLNER | DERICK FOX | GINA ROE-DAVIS |
| El Paso Chihuahuas | El Paso Chihuahuas | El Paso Locomotive FC | El Paso Locomotive FC | Leg Up Entertainment |
| Sr. Director, Marketing & Communications | Sr. Manager, Broadcast & Media Relations | Director, Marketing & Communications | Manager, Communications | Director, Special Events |
| Email: aolivas@ | Email: thagerty@ | Email: snollner@ | Email: dfox@ | Email: groe-davis@ |
---