Ballpark Buzz | February 9, 2021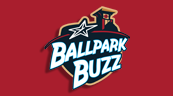 February 9, 2021

El Paso Locomotive Inks Former MLS and USL Standout Forward Luis Solignac
Former San Antonio FC captain and joint USL Championship record holder for fastest goal, Luis Solignac bolsters the El Paso Locomotive attack.
Chico Valentine's Day Bundle Is ON SALE NOW!
Chico is providing a unique opportunity for couples and loved ones to make this year's Valentine's Day a special one by offering a "paint together" Chico's Valentine's Day Bundle - on sale now!
Chihuahuas Team Shop to Offer Valentine's Special
The Chihuahuas Team Shop announced today a special just in time for Valentine's Day. The Team Shop will offer 25% off on all men's and women's apparel (excluding jerseys) beginning at midnight on Friday, February 12 through 11:59 p.m. on Sunday, February 14. The offer will be available online and in the store. The Chihuahuas Team Shop is located at Southwest University Park on the corner of Durango St. & Franklin Ave. Shop hours are Monday through Saturday, 10 a.m.-5 p.m. Fans may also purchase online and pick up in the store at chihuahuas.milbstore.com.
Valentine's Day: Here are 14 ways to celebrate love and friendship in El Paso area
Still looking to make Valentine's Day special for your loved one? Here are a few tips that could help make that day special for you and your special Valentine. (Maria Cortes Gonzalez, El Paso Times, February 10, 2021)
---
BALLPARK CONTACT INFORMATION
| | | | | |
| --- | --- | --- | --- | --- |
| | | | | |
| ANGELA OLIVAS | TIM HAGERTY | SARAH NOLLNER | DERICK FOX | GINA ROE-DAVIS |
| El Paso Chihuahuas | El Paso Chihuahuas | El Paso Locomotive FC | El Paso Locomotive FC | Leg Up Entertainment |
| Sr. Director, Marketing & Communications | Sr. Manager, Broadcast & Media Relations | Director, Marketing & Communications | Manager, Communications | Director, Special Events |
| Email: aolivas@ | Email: thagerty@ | Email: snollner@ | Email: dfox@ | Email: groe-davis@ |
---