2021 WAY OUT WEST Fest Set for October 2nd at Southwest University Park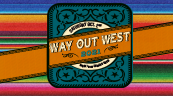 May 18, 2021
EL PASO – May 18, 2021 -The date for the 2021 Way Out West Fest has been set! El Paso's premier Country Music Festival will take place on Saturday, October 2 at Southwest University Park. After postponing the event in 2020, this year's Way Out West Fest is rearing up and getting ready to unmask the music and produce a top-notch live event.
Since 2016, Way Out West Fest has featured artists such as Midland, Jake Owen, Lee Brice, Clay Walker, Parmalee, Brandy Clark, Frank Ray, The Powell Brothers, Brooke Eden, Travis Denning, The Wild Feathers, Madison Kozak, and Desure.
Way Out West Fest event producers will announce the headlining artist the second week in June and the opening acts throughout the summer. The 2021 Way Out West Festival will continue to feature a chili challenge, the Quest for the Best Margarita Contest, an outdoor dance floor, retail vendors, food vendors, and more. Gates open at 5 p.m. with top country music artists performing live during the festival.
Tickets to Way Out West Fest go on sale on June 8th and will be available at the Southwest University Park Box Office, at www.epwayoutwest.com or www.southwestuniversitypark.com For up to the minute updates, follow on Instagram: @EpWayOut West and Facebook: @EPWayOutWest.