Tuesday, March 10th, 2015, 4:00pm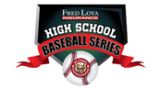 Fred Loya High School Baseball Field Series Stadium Rules
Fans will be admitted for free to Southwest University Park.
Restrooms will be open at sections 109 and 115.
Concessions will be provided at the discretion of the Chihuahuas and Ovations Food Service.
Outside food

WILL NOT

will be permitted.
Please utilize downtown parking space where available. This does not include Ballpark VIP parking behind the stadium.
Southwest University Park is a smoke free facility including e-cigarettes.
---
For more information contact:
Colby Miller
915-242-2007