LEE BRICE TO HEADLINE 2018 WAY OUT WEST COUNTRY MUSIC FESTIVAL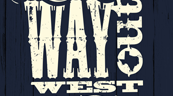 June 14, 2018
CLICK HERE to purchase your tickets! (On sale June 21st at 8 a.m.)
El Paso - JUNE 14, 2018 - Country Music singer and song writer, Lee Brice, will headline the Third Annual Way Out West Country Music Festival (WOW Fest) to be held on Saturday, October 13th at Southwest University Park. Now in its third year, El Paso's own country music festival delivers the best in country music with Lee Brice being the first of many more country music artists to be announced throughout the year!
When Lee isn't selling-out arenas on tour, he's writing and recording songs, working on his new business partnership with whisky brand American Born, or spending time with his family in the great outdoors.
Lee is a family man, proud husband, and father of two sons and new daughter Trulee Nanette, born in June of 2017. His latest single, "Boy," serves as a tribute to his young boys, Takoda (9 years old) and Ryker (3), both of whom appear in the song's emotional video. The song delivers another poignant performance from a world-class male vocalist whose string of multi-platinum hits — including "I Don't Dance," "Hard To Love," and "Drinking Class" — have always shone a light on the everyday heroes in our midst. Brice's fans won't have to look very hard to see glimpses of their families in "Boy."
"I've tried to walk a fine line between the commercial and the things that are tangible," he explains. "I'm on the road 200 days a year, trying to write songs when I'm in town. But I also want to make a life: I have a wife, a baby, two little boys and a home. That's important to me. So when I'm home, I work harder and dig deeper into living. You know, you have to live so you have something to work from and write about."
Fans can purchase tickets to the Way Out West Country Music Festival starting Thursday, June 21st at the Southwest University Park box office or online at www.epwayoutwest.com or www.southwestuniversitypark.com.
EAT. DRINK. DANCE. WOW FEST STYLE!
The Way Out West Country Music Fest will also features a Margarita contest, Chili Challenge, a one-of-a-kind outdoor dance floor, unique retail and craft vendors, plenty border food favorites along with ice cold drinks! Kick back with a frosty beverage and sing along or grab your partner and two-step under the stars!
Live Country music, delicious food, and a fabulous climate… Just a few reasons to celebrate WAY OUT WEST – where Texas begins and the party never ends!
Follow Lee Brice here:
Official Website: leebrice.com
Facebook: facebook.com/leebricemusic
Twitter: twitter.com/leebrice
Instagram: instagram.com/leebrice
YouTube: youtube.com/user/leebricemusic
"Boy" is available here:
iTunes/Google Play: http://flyt.it/LeeBriceBoy
Spotify: http://flyt.it/LBspotify Apple Music: http://flyt.it/LBmusic
WAY OUT WEST COUNTRY MUSIC FESTIVAL
Event Date: Saturday,October 13th, 2018
Gate: 5:00PM
Location: Southwest University Park
Tickets on sale: Thursday June 21st, 2018
Tickets available at: www.epwayoutwest.com, www.southwestuniversitypark.com and the Southwest University Park Box Office.
For more information contact: events@ravemarketing.com
Event information available at:www.epwayoutwest.com
Facebook: @epwayoutwest
Instagram: @epwayoutwest
Twitter: @epwayoutwest