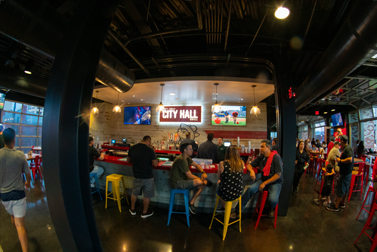 Minimum: $1,750
Capacity: 100 (Approximate)
AV Capabilities: (Extra)
A tribute to what once stood, the City Hall Grill offers an intimate location for your small party. Whether it is classroom style or skirted tables and chairs, the Grill also includes a built-in bar and four flat screen televisions to accommodate your party needs.
*Fees include number of tables and chairs we have on-site. There will be an additional charge for rented chairs, tables, etc.
*All food and beverage arrangements will be handled by Professional Sports Catering.
*AV capabilities is an additional charge.
*Security and staffing to be determined and are responsibility of the lessee.
*All other variable costs incurred for an event are the responsibility of the lessee.